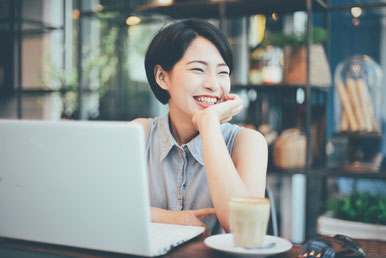 Tania Diggory, Founder of Calmer and Author of This is Calmer
"Tell us about yourself."
How often have you been asked this? It's one of the first things that's proffered at an event, when networking, or in an interview. People want to know who you are, and what you do.
But do you really know who you are?
In my experience, many entrepreneurs at the start of their business journey struggle with this question. They feel unconfident putting forward their business idea, or they may do so many things for their business that they're not quite sure what to pick.
Either way, it all comes down to knowing who you are.
How to define who you are and what you stand for
In the early stages of starting up a business, there is a great deal of focus placed on all the components needed to create, launch and scale. You will be faced with questions like: What does the business need? What resources do we need to find? What processes will we have in place? What are our monthly, quarterly and annual marketing benchmarks? What are our financial projections? How can we best understand our customer journey? Etc. etc.
As a business owner, it can be so easy to get caught up in external situations and thinking about others in order to make the business happy that you forget to prioritise yourself and your goals. What about your own happiness?
Defining your core values, and those of your business, can make all the difference. There's a reason you started your business - often it's either to solve an unanswered problem, or to improve on an existing solution.
How to define your values
Take a few minutes to ask yourself the following questions:
1. In life, what really matters to me?
2. What problem do I want to solve through my business?
3. What do I want people to feel when they engage in my brand?
4. If I sum this up in one sentence, what would the mission of my business be?
Prioritise yourself and be confident
At Calmer, we believe a happy mind makes for a happy business and our aim is to support entrepreneurs and purposeful teams to nurture good mental health and wellbeing. In essence, your mind is one of the most vital elements of your business - so it's important that you treat it well.
I know how revolutionary it can be for entrepreneurs to gain confidence in their work, and also themselves. This is a key part of the entrepreneurial journey and you can start to improve your confidence by giving yourself permission to do the following:
1. Take time in your working day to pause, reflect and learn from your experiences.
2. Set healthy boundaries for yourself in your working day that allows you to step away from distractions and cultivate a deeper sense of self-awareness.
3. Set a routine and working hours that works for you – when do you feel most productive? When do you factor in time for breaks?
4. Spend time connecting with those you care about and build your support network as you grow your business. By nature, we are social beings and we thrive on connecting with others – remember it's not supposed to be a lonely experience as an entrepreneur.
Investing in your mental health like you would in your business finances is essential. Not only will this ensure that you are taking care of yourself in a holistic sense, but also you're taking care of the health of your business – after all, your business is an extension of you.
Make your business a purposeful one
Another way to strengthen your business offering, and your confidence in your business, is to make it a purposeful one.
A purposeful business is one that combines selling a product/service with tackling a problem or challenge in the world. The sale of your products and services become a vehicle for positive change - taking away the guilt that many entrepreneurs feel from making money.
Here are a few steps you can take to develop your business into a purposeful one:
1.  Define your purpose - what is important to you personally?
2.  Align with a bigger cause - this may be a charity, an activist movement, or an online community
3.  Articulate the purpose across your branding, copy, communications, marketing, and website
4.  Recognise opportunities to do more - could you become a face for the movement?
Know your worth
Once you know what you and your business stand for, your bigger purpose, and the kind of product or service you are providing, you can also answer the big ticket question: what are you worth?
Set the bar when it comes to your business offering, and be confident with what you do. Recall your personal values, and how you're making a difference.
Just remember, your own self-worth is not reflected in the company accounts. No matter the revenue of your business, your personal value remains the same. You deserve to succeed, to feel content in your work, and to prioritise yourself.
So, can you answer the question now?
"Tell us about yourself."

Tania spoke at the Generate Entrepreneur, monthly networking meeting at the Battersea Arts Centre on the 17th April.
Sorry you missed her, but to attend the next event click the link below.