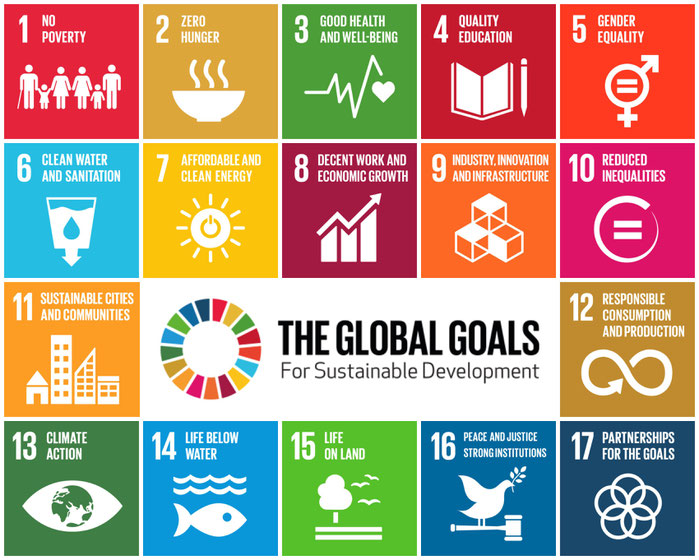 "Nothing exists until it is measured." (Niels Bohr). 
In 2015, the General Assembly adopted the 2030 Agenda for Sustainable Development that includes 17 Sustainable Development Goals with a mission statement of creating a "blueprint to achieve a better and more sustainable future for all" The 17 goals are listed left. 
The Sustainable Development Goals (SDGs) are universal, interconnected and exponential in nature, and there are clear targets and indicators to track progress toward these objectives. 
In the aftermath of this announcement, we would have expected companies that support these goals to have found avenues open to them that may not have been open to them previously.  
Early stage Green technology innovation
"Despite the Covid driven urgency in addressing systemic global challenges such as Climate Change and the Water Crisis, the really noticeable thing to me is how little has actually changed since the UN's SDGs were announced in 2015, especially with respect to investment into early stage Green technology innovation."  
"We started Desolenator in 2014, and in that time we have seen a lot of people talking about supporting and funding innovation to meet those goals, but in a moment of epochal change, incremental improvements will not deliver the kind of global shift required for a better future." 
"We need a paradigm shift for the SDGs to be realised. Where we recognise that the only way to protect the bottom-line in the long-run is to invest in social and environmental impact now. If Covid-19 has taught us anything, it's that the old way wasn't serving the majority, that we are all interdependent and that now is the time for real action to bring about real change." 
Alexei Levene, co-founder of Desolenator, a low-cost, sustainable water purification system that solves systemic global issues, such as food production and ocean degradation, and empowers people, communities and businesses. 
Impact investing 
While not all of the goals are appropriate for private, return-seeking capital, the scale of many of the related challenges gives rise to significant long-term investment opportunities. 
Impact investing has become more and more important for a new generation of high net worth individuals. These investors are motivated to allocate capital to investments where they expect to not only see a financial return but also an impact on the UN SDGs.
Therefore aligning your business goals with the sustainable development goals, may add additional sources of finance for your company.  
Funds
Today there are funds open for the sole purpose of supporting sustainability entrepreneurs for example:
Rockstart, a global accelerator-VC, has just launched a second €21m fund to invest in energy startups, with the aim of driving positive impact at a global scale. 
Circularity Capital, a signatory of UN-supported Principles for Responsible Investment, focuses on supporting the growth and innovation of SMEs operating in the circular economy. 
Grants
ISCF Transforming foundation industries: Building a resilient recovery
UK registered businesses can apply for a share of £8 million in grant funding for projects supporting recovery and growth of the UK's foundation industries before the 4th November.
Small Charities Challenge Fund (SCCF)
SCCF project grants of up to £50,000 are available for projects of up to two years, for UK-registered organisations working towards addressing the Global Goals, to improve the lives of the most vulnerable and marginalised. The UK Aid Direct team will host an application guidance webinar on Wednesday 21 October 2020 from 11:00 – 12.30pm.
Loans
Big Issue Invest - UK awards £20,000 to £3,000,000 for established social enterprises who've been operating for at least 24 months.
The Earthshot Prize
The Duke of Cambridge has announced that £50m will be awarded over 10 years through his Earthshot prize, which aims to find solutions to repair the planet by 2030. Five £1m prizes will be awarded each year for the next 10 years, aiming to provide at least 50 solutions to some of the world's environmental problems.
Research and Development (R&D) reliefs 
R&D reliefs support companies that work on innovative projects in science and technology. It can be claimed by a range of companies that seek to research or develop an advance in their field. It can even be claimed on unsuccessful projects.
You can claim SME R&D relief if you're a SME with less than 500 staff, and a turnover of under 100 million euros or a balance sheet total under 86 million euros.
There are also regional loans and grants you can look into on the Government Business Finance Support website.